General description of Kinder Dolfijn Energetica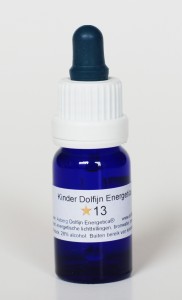 These children's dolphin energies support children in their development processes. Where the vitality has become blocked very early due to experiences or physical problems, they help the children in their process of letting go and support in restoring their ability to experience happiness in their lives.
The dolphins help with reconnecting with the feelings, in order to put children in touch with their creative power, in a playful way. Security, safety and protection are the keywords.
This series of children's dolphin energies is an aid for children and therapists who work with children. A child can sometimes have difficulty talking about what is going on, out of fear of not being believed and therefore being rejected.
Numbers 1 through 5 are mental energies that penetrate deep into the earth energy of the child.
Numbers 6 through 13 are an aid for children who sometimes have difficulty because of the environment or adults. Teachers can sometimes think too much from the perspective of the group, instead of seeing that child as an individual. This energy helps children to dare to be unique again.
For descriptions by bottle, click here