New

!
Welcome! You are now looking at the new website of dolfijnenergetica.nl. After a long absence from the web, a great deal has happened. A number of new Energetica have been added, the site is now built in WordPress, and it is chock full of information about dolphins, the energetic agents, applications, beautiful photos and interesting links. You can click on the photos in order to view them in a great large format. Links in the texts are always shown in blue letters.
January 2017: We were swimming with Humpback whales on the Silverbank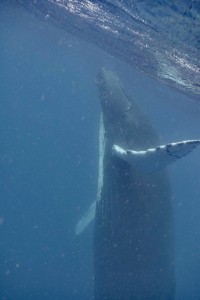 Thankful that we (Mieke and I) finally met the Humpback Whales! We also had "soft-contacts" with them in the warm waters of the Silver Bank! This is a marine reserve north of the Dominican Republic ( "Sanctuary for the Marine Mammals of the Dominican Republic"). We even have had a moment face to face position with a calf with mother. On another day we had contact in the water for over an hour with two "sleepers." A male and female took naps of 20 minutes on the bottum. When it was time to get some fresh air they gently surfaced close enough to see them very well. We had a Whale Connection! It was an unforgettable journey, under the guidance of Mary J. Getten – animalsinterpreter and Tom Conlin,  the humback expert for over 26 years. Also interested in swimming with humpback whales? Check: http://ajourneyofdiscovery.com/whalesvideopage.html
Dolphin Energetics for children expanded!
In 2012, the Kinder Dolfijn Energetica (=Dutch for Dolphin Energetics for children) were introduced. From the wild dolphins in t

he Red Sea, I got 5 terrific energetic agents for children. Many therapists are already using these energies in their practice for working with children. In the summer of 2015, 8 new Energetica were added. These 8 bottles originate in the Atlantic Ocean. The Kinder Dolfijn Energetica is now a series of 13 and thus complete! Read more about the new additions here.
Dolfijn Energetica henceforth in blue bottles & price adjustments
The Asberg Dolfijn Energetica Series 1, 2 and 3 were dispensed until 2015 in the classic 'apothecary brown' bottles. You are probably already familiar with the blue colour of the Kinder Dolfijn Energetica. Starting in 2016, all the series of dolphin energies are now delivered in the beautiful cobalt blue bottles. The purchase of these bottles is more expensive, so that a small price increase has been implemented. The prices have been raised for the first time in 10 years by € 10.00 per set. This brings the price of a complete series of 13 stock bottles to € 110.00.
Interested in the workshop Working with Dolphin Energy?
Fill in the no-obligation contact form, and you will receive a newsletter as soon as a workshop is scheduled in Panheel/Limburg or Soesterberg/Utrecht (The Netherlands).
The workshop is given in Dutch, unless there are English-speaking participants!